Liteloader Mod
1.12.2 → 1.11.2
Liteloader Mod is a lightweight mod loader for Minecraft that allows for easy installation of mods.
Developer
👤Mumfrey
Category

📜

Library & API

Loaders
Created
Jun 28, 2013
Updated
Oct 22, 2016
Stats
There are different kinds of Minecraft mods out there, believe it or not. Some mods add new content to the game, and that's simple enough. Other mods actually change the way the game works or modify game mechanics to change how things happen or alter the schedule on which they happen. Any mod that adds new dimensions and portals for crossing over to them is a good example of this. The LiteLoader mod 1.12.2 is really more of a utility of add-on than a mod. It acts as a very basic mod loader and is designed to work with only the most basic mods – the ones that don't modify game mechanics.
If you think of the LiteLoader mod as the perfect tool for managing lightweight mods, that will help a lot with understanding exactly what it is. Because the mods meant to be loaded up by LiteLoader are supposed to be small incidental things in the first place, you should never have compatibility issues between your Forge and FML mods and the mods you use LiteLoader to manage. This mod loader is actually designed to work alongside other, larger programs and take some of the strain off of them by picking up those mods which are easier to manage.
Most of the small, easily managed mods available for Minecraft are all meant for use client-side anyhow, so there's no reason for any modder to overlook LiteLoader. It is the perfect loader for managing small mods like Chat Tools or Mini Maps and other mods that focus on changing the HUD (heads-up display) or the user interface (GUI). There's also a nice feature that looks for outdated mods and refuses to load them, so you never have to worry about Minecraft crashing out again because the current game client and the installed mod in question aren't compatible. LiteLoader just won't load it.
Perhaps the best part about the LiteLoader mod is that it is easy to install and simple to use. The interface only takes a couple of minutes to figure out and master. The only issue is learning the threshold between mods that are simple enough for LiteLoader to manage and that are so complex that they require something more substantial to make them work, like Minecraft Forge 1.12.2. There is no clear guide on this, so you should be willing to try (and fail) to install mods with LiteLoader until you understand it better.
Liteloader compatible versions:
1.12.2
1.12.1
1.12
1.11.2
1.11
1.10.2
1.10
1.9.4
1.9
1.8.9
1.8
1.7.10
1.7.2
1.6.4
1.6.2
Features
Let's take a look at what Liteloader Mod has to offer.
🚀

Lightweight

Liteloader is a lightweight mod loader that does not add any significant overhead to the game.

📁

Easy Installation

Liteloader makes it easy to install mods by simply dropping them into the mods folder.

🎮

Game Compatibility

Liteloader is compatible with many different versions of Minecraft, including snapshots and pre-releases.

🛠️

Configurable

Liteloader is highly configurable, allowing users to customize many different aspects of the mod loader.

👥

Community Support

Liteloader has a large and active community that provides support and resources for mod developers and users.
How To Install Liteloader Mod
WIP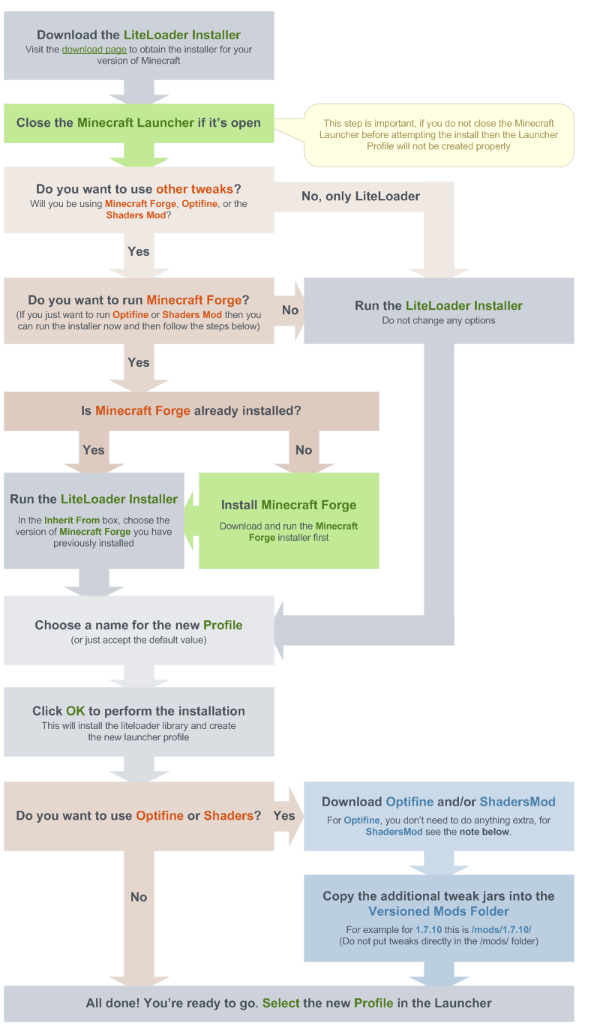 📥 Liteloader Mod — Download
Something You Should Know
Our links are only from the official developer, so you can be sure they are secure.
No modifications or edits are made to the files.
👨‍💻 Mumfrey is the creator of Liteloader Mod