Optifine 1.11.2 and 1.10.2 is one of the most commonly recognized mods amongst the Minecraft community–and for good reasons. Widely regarded as one of the few mods that revolutionized the way Minecraft is played, Optifine has added a multitude of features that smooths performance, enhances graphics, and allows hardware to better process the game's textures.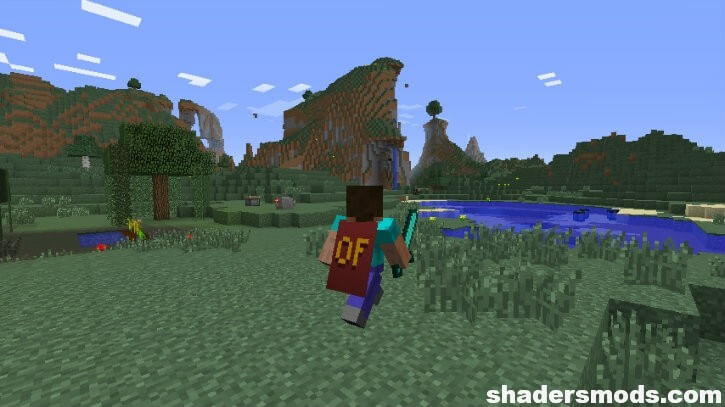 But that's simply Optifine in general. This particular mod enhances Optifine for 1.10 builds of Minecraft. Optifine HD focuses on making the game more aesthetically pleasing while giving a considerable boost to performance speed. Many players who use this build of Optifine will notice a significant increase in framerate. While a noticeable spike in framerate is a common feature, Optifine HD provides many other features as well. In conjunction to processing performance, this mod also provides support for HD textures. Some notable examples are HD fonts, animated terrain and item textures, customs colors, custom palettes, and custom lighting. This mod also allows for more variable render distance, ranging from tiny to extreme. Some sky textures are visible in short render distances, a feature not commonly available in vanilla.  This mod also adds mipmaps support, making it so objects at a distance have an easier time rendering and therefore look better than compared to a vanilla experience. Optifine HD also adds support for simpler visual features, including fog control, better grass, better snow, and clearer water textures. Sometimes the simplest improvements are the most noticeable, and this mod is a testament to that concept.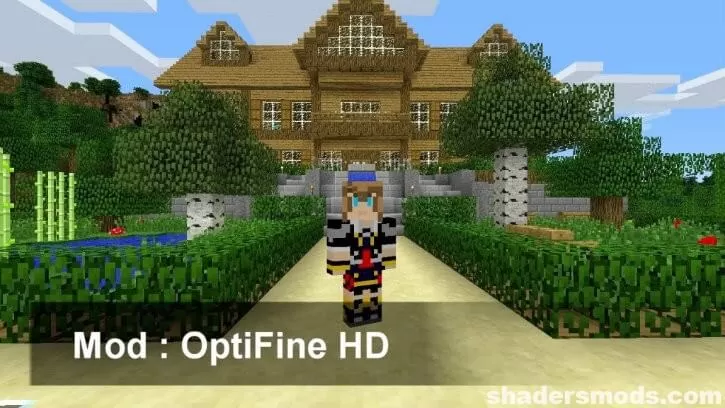 On the more technical side, Optifine HD mod adds advanced features for those who are extremely familiar with the more complicated side of visual effects. Anisotropic filtering is one such example, providing support for mipmapped features within the game. Antialiasing is also provided, which often adds smoothness for some of the rougher, more pixelated textures seen in-game. V-Sync is provided as well, increasing the average processing performance by adjusting framerate to better match the refresh rate of the player's monitor. Support for Advanced OpenGL is added as well, a feature most noticed by players adept in advanced graphical features. In Layman's terms, OpenGL adjusts the in-game artifacts, creating either a better visual experience or a better processing performance. With Optifine HD, the player can adjust how the game loads chunks. For strong processors, a player can adjust chunks to load at an incredible distance so that moving from one point in the game to another feels more like an open experience rather than a string of loading up sections to the game. For those with less powerful computers, chunks can be preloaded. This often allows certain chunks to not be loaded, making it so the game will not waste resources on loading an area that will not be explored. What good is loading up parts of a game that aren't used, anyway?
Finally, Optifine allows for an incredible amount of graphical configuration. Certain animations, such as fire, water, lava, explosions, particles, and many other animations can be disabled to further increase processing performance. By default, these features are enabled. If you are looking for a mod to increase the graphical aspects of Minecraft, or you simply want the game to run faster, Optifine HD is definitely worth checking out.
Optifine HD Mod Changelogs
preview_OptiFine_1.11_HD_U_A5_pre
Fixed invisible entities in multiplayer
Fixed crash with ExtraUtilities2 (broken EnderLilly model)
Updated entity handling to reflect the Forge rewrite of the entity registry
Updated MCP mappings
Reorganized options, moved Dynamic Lights and Dynamic FOV to Video Settings
Updated to Minecraft 1.11
OptiFine 1.10.2_HD_U_C3
Fixed grass and flowers bounding box to match render model
Fixed flickering CTM overlays for rotated models
Fixed custom items handheld rendering
Fixed CTM overlays to work only for full face quads
Fixed Custom Items crash when referencing "assets/minecraft/textures/items"
Fixed face culling for custom pane models
Enabled shader variable "ambientOcclusionLevel"
Fixed Better Snow with shaders and waving grass
Optimized entity rendering
Fixed Fast Render default to OFF
Added custom panoramas
Added CTM method overlay (block transitions)
Fixed CTM horizontal and vertical for top and bottom faces
Added CTM method "ctm_compact"uses 5 textures instead of 47
Compatible with Forge #2073
OptiFine 1.10.2_HD_U_C1
Fixed water rendering with top half slabs
Changed option "Fullscreen Mode" to slider
Fixed fullscreen mode to show all available resolutions
Fixed custom armor to use base texture when layers are not defined
OptiFine 1.8.9_HD_U_H2
Added option "-Dshaders.debug.save=true", saves active shaders in "shaderpacks/debug"
Fixed Forge custom armor rendering
Fixed shader initialization in nether/end
Fixed Forge blocks layer reordering (BetterFoliage grass and BuildCraft pipes)
OptiFine 1.8.0_HD_U_D5
Enabled Forge loading screen
Compatible with Forge #1486
Tips:
This mod does not require Forge, but is compatible with most versions.
This mod does not require ModLoader, but is compatible with most versions.
Both Forge and Modloader should be installed BEFORE installing Optifine.
How to install Optifine HD Mod?
All you do is to download the Minecraft Forge and install it first.
Now you need to download Optifine, the download links are below of this text.
Move the downloaded .jar into the mods folder.
That was it!
Download Links for Optifine HD Mod
for Minecraft 1.11.2
for Minecraft 1.11
for Minecraft 1.10.2
for Minecraft 1.10
for Minecraft 1.9.4
for Minecraft 1.9
for Minecraft 1.8.9
for Minecraft 1.8
for Minecraft 1.7.10
Credit: sp614x – Do not forget to check official website for more information!